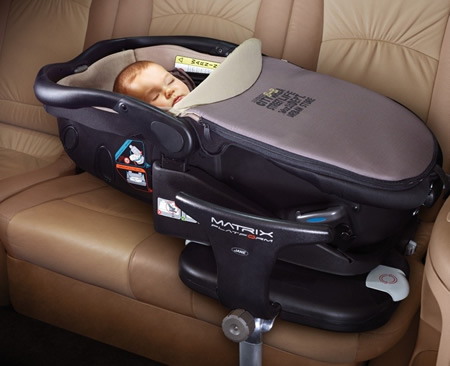 Jane Matrix Light Isofix
Prefer an Isofix Base? .....read on
The details below are very similar to the "Jane Matrix Light" page but the final few sentences relate to the using of the optional Matrix Light Platform (ISOfix Base).
The Jane Matrix Light 2 is the very latest in a series of lie flat car seats from a large global car seat manufacturer.
Developed over a ten year period the "Jane Matrix Light 2" is a unique lie flat car seat (multi positional) that can be used both flat in the car and rear facing (once baby reaches 6 months or so).
Because of the large number of worldwide patents on the design, the Jane Matrix remains as the only true multi positional, lie flat car seat in the world today.
The "Jane Matrix" can be secured in the car by either the seat belts or by way of an ISOfix Platform (Base) If you are unsure what ISOfix is here is a link to a video on Youtube that will help: www.youtube.com/watch?v=qL3c3hs9who

Additionally, Matrix can be secured onto virtually all Jane pushchairs in one click, without the need of adaptors or fixing kits so makes the perfect pram / travel system.
The Jane Matrix offers four positions when secured to the pushchair or when it is being used in doors as a carry-cot and this is one of the strengths of Matrix in that baby is in a safe, lie flat, environment for several months which can even be used for overnight sleeping.
In the car however, the Jane Matrix must be used either completely flat (taking up two passenger seats) or in the upright position. This position is not recommended by us for a newborn as the angle is too steep but is suitable for children once they reach six months or so. Indeed here again Jane Matrix excels as it is about three inches longer than a conventional infant carrier so allows baby to rear face for an extra three to four months.
Because Jane Matrix offers a lie flat position this car seat has no time limits and baby sees Matrix as a comfy carry-cot as opposed to a restrictive car seat.
It is very easy to secure Matrix into the car using the seat belts but easier still using the ISOfix Platform (Base) which normally retails at about £200.
You can see a useful video of Matrix Light by clicking the link below but please note that buying a car seat online is not recommended (see the"More Advice" page). Additionally, please note that Matrix Light 2 has been upgraded since this video was produced: www.youtube.com/watch?v=_wau0T1183Q

One big plus when using the Platform is that the Matrix rotates allowing easy access to the car seats harness. In our own long term user tests this feature was very highly rated.
To take a Matrix off a Jane pushchair and secure in the car using the ISOfix base takes just few seconds and is incredibly easy, (there is one UK website that suggests the contary!). Here is a non edited video that proves just how easy this is: https://www.youtube.com/watch?v=Wrn-19zu9Fs

Additionally, in local Council Car Seat Check Events Matrix Isofix has (at the time of writing) a 100% pass rate that suggests that consumers find attaching Matrix to the Platform very easy.
Some consumer organisations dont like the Matrix Platform as it has two actions before it automatically locks in and may suggest you dont buy it. Other experts think the exact opposite and believe it is a great safety feature as it prevents movement in an accident. Just goes to prove that even road safety products sometimes comes down to opinions.
We would suggest you check out the consumer reviews which speaks for themselves. Here is just one link click here: http://www.amazon.co.uk/Jane-Matrix-Light-Platform-Isofix/dp/B006L2P9LQ/ref=sr_1_2?ie=UTF8&qid=1424242299&sr=8-2&keywords=Jane+Matrix+Light
The Jane Matrix has over the years won a multitude of industry awards including "Best in Test" and "Gold" awards. For full details click here:- http://www.johnstonprams.co.uk/dynamic/viewitem.php?item=3403X-S45

In ADAC crash tests the Jane Matrix Isofix was rated the same as when secured by seat belts "Good". Matrix also received the highest possible rating in regard to the toxicity tests and the cleaning of fabrics.
VERY HIGHLY RECOMMENDED.