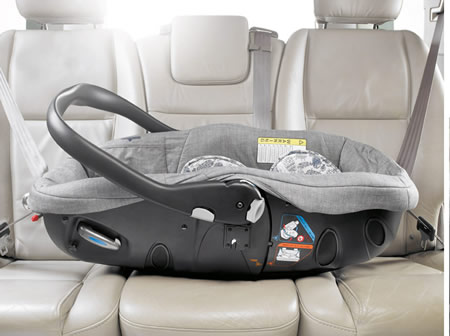 Jane Matrix Light 2
The only true multi positional car seat.
The "Jane Matrix Light 2" is the latest in a series of Matrix "lay flat car seats" from a large global car seat manufacturer based in Spain. Developed over a ten year period Jane Matrix Light 2 is a unique "multi positional" (lie flat) car seat that can be used both flat in the car and rear facing once baby reaches 6 months or so.
To their credit Jane (pronounced "Hannay") were the first car seat supplier in the world to warn parents that not all car seats seats were "safe & healthy" and Matrix was the very first car seat to be marketed in this way.
Because of the large number of worldwide patents on the design, the Jane Matrix remains as the only true multi positional, lie flat car seat in the world today other than the Be Cool Twice model which comes from within the Jane group of companies.
Matrix can be secured in the car by either the seat belts or by way of an ISOfix base (reviewed separately, see "Matrix ISOfix" page). If you are unsure what ISOfix is here is a link to a video on Youtube that will help: www.youtube.com/watch?v=qL3c3hs9who

Additionally, the Jane Matrix can be secured onto virtually all Jane pushchairs in one click, without the need of adaptors or fixing kits so makes the perfect pram/ travel system. As of 2017 Matrix will also be able to be secured (with the aid of Jane adapters) to the popular Bugaboo Cameleon pushchair.
The Jane Matrix offers four positions when secured to the pushchair or when it is being used indoors as a carry-cot and this is one of the strengths of Matrix in that baby is in a safe, lie flat, environment for several months which can even be used for overnight sleeping with the addition of a specific mattress.
In the car however Matrix must be used either completely flat (taking up two passenger seats) or in the upright position. This position is not recommended for a newborn as the angle is too steep but is suitable for children once they reach six months or so. Indeed here again Jane Matrix excels as it is about three inches longer than a conventional infant carrier so allows baby to rear face for an extra three to four months. Matrix also offers a very unique" anti rotation" feature; vital if you car is struck at speed from behind.
Because Jane Matrix offers a lie flat position this car seat has no time limits and baby sees Matrix as a comfy carrycot as opposed to a restrictive car seat.
It is very easy to secure Matrix into the car using the seat belts but easier still using the ISOfix Platform (Base) which normally retails at about £200. To take a Matrix off a Jane pushchair and secure in the car using seat belts takes about 45 seconds in the lie flat postilion. Using the Platform takes about 5 seconds. You can see a useful video of Matrix Light by clicking the link below but please note that buying a car seat online is not recommended (see the "More Advice" page). Additionally, Jane Matrix Light 2 has been updated slightly since this video was produced: www.youtube.com/watch?v=sx5isilQW4M
The Jane Matrix has over the years won a multitude of industry awards including "Best in Test" and "Gold" awards. For full details click here:- http://www.johnstonprams.co.uk/dynamic/viewitem.php?item=3403X-S45

In ADAC crash tests Matrix was rated "Good" it also received the highest possible rating in regard to toxicity tests and cleaning of fabrics.
So what are the negatives with Matrix? Well it is pretty heavy so some may find it hard to lift. The other negative is rather a "double edged sword" when you transverse the Matrix into a lie flat position you obviously take up the space af another seat in the car so this will restrict the number of passengers you can carry. Baby on the other hand, is really comfortable and (hopefully), sleeping just like in the cot. In the rear facing position Matrix takes up the same space as any other car seat.