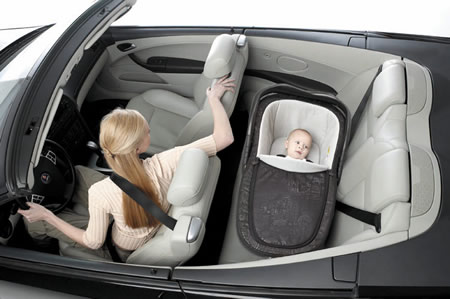 Jane Transporter 2
In car carry-cot
The Jane Transporter 2 is both a carrycot and a Group 0 lie flat car seat meaning like the Britax Baby-Safe Sleeper it can be used until baby reaches 10 kg (probably about 10 months). It has excellent crash test results.
The Transporter can be used for overnight sleeping (with mattress - optional extra), for naps during the day, in the car or on your the chassis of a Jane pushchair. The tether clips (used to secure Transporter when in the car) are in-built into the Transporter meaning that you cant lose them
Transporter also boasts an integral roll cage feature, as you keep the carry handle in an upright position acting as an anti-rotational device.
For more details of the Jane Transporter click here : http://www.johnstonprams.co.uk/dynamic/viewitem.php?item=53346X-R62
ADAC report a "good" crash test result for the Jane Transporter and a "very good" result both for toxicity and cleaning ability.