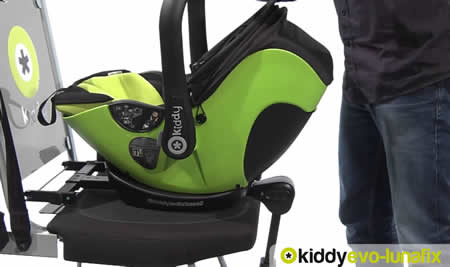 The Kiddy Evo Lunafix
An infant carrier with a difference
The Kiddy Evo-lunafix was introduced to the UK market in 2015 and is a great car seat. The Kiddy company are also a relatively new supplier to the UK, however a number of their products have proved very successful in particular their "impact shield" models. We really endorse these seats as they are so easy to move from car to car.
The Evo-lunafix looks rather like a standard infant carrier, but appears to be a little larger and is slightly "Egg" shaped in design.
The Evo-lunafix will attach to many different pushchairs that are able to accept standard "Maxi Cosi" adaptors. There is a full list of compatible pushchairs which have been safety tested by an accredited lab, or by the pushchair manufacturer near the bottom of this page: http://www.kiddy.de/en/baby-carriers/baby-carriers/kiddy-evo-lunafix.html
You will probably need to buy the adaptors as most pushchair companies class them as a optional extra.
The Evo-lunafix can only be used in the car using the Kiddy ISOfix Base 2 which is supplied with the car seat. It is exceptionally easy to use and the wonderful feature is how easily you can transform it from a standard infant carrier to a lie flat car seat............just by moving the handle! This means there are no time limits using Evo-lunafix once the baby is in the flat position.
Another clever feature is that the slatted frame onto which baby lays, allows for good ventilation and air flow around the baby. In an accident this slatted frame is designed to give way, thus transforming the car seat into a conventional infant carrier so to offer extra protection.
In regard to negatives for this seat, it is a shame it does not have a seat belt fitting option so you can only use it with the base in a car with isofix brackets. Additionally, in the vast majority of cases you will not be able to fit this seat in a car if it has underfloor storage. Evo Lunafix and its base is pretty bulky and heavy, but that is true of all lie flat seats.
A link to the manufacturers web page is here: http://www.kiddy.de/en/baby-carriers/baby-carriers/kiddy-evo-lunafix.html
This car seat is highly recommended but its sister product Evo-Luna i-Size is probably worth the extra £40 cost.