Lochies Legacy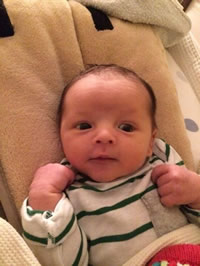 Making things better
There is never a good time to lose any family member and to lose a child is even worse. As parents, we all imagine our children will outlive us, but very sadly, sometimes that does not happen.
Lochlan was just twenty-six days old when he passed, and we will all remember that day for the rest of our lives. New Year's Eve is a day when we would all typically be looking forward, but for us, it will be a day that we will always dread.
What gives us the strength to go on is that we need to turn a huge negative into a huge positive and that Lochlan's passing goes on to help and save other potential SID's victims.
This website is part of that strategy.
A few days after Lochie had passed, I wrote an email to many of the car seat experts across Europe appealing, that as an industry, we made things better in future. A copy of the edited email is below but BEWARE.
Pretty much everyone will find the contents incredibly distressing, so PLEASE THINK TWICE before reading further into this page.
The reason we are publishing the email is when a baby tragically dies in a road traffic accident it is splashed across all sections of the media. When you get a SIDS victim, it rarely merits a paragraph in the local press.
This is wrong.
Many more newborns die of SIDS than die in road traffic accidents, and we hope that the publication of "Which Car Seat" helps to address the balance.
Just one more point before that email - which I would mention has had great support from many involved in road safety - we need to say that in December 2015 one UK national newspaper had suggested that Lochlan passed because he was in a car seat and this is not totally true.
Lochlan passed because he had an undiagnosed heart disorder. Sitting him in a car seat, the stress (as reported on "The Medical Evidence" page of this website) proved too much for his heart.
Other newborns and babies pass in car seats for a variety of different reasons, but there is one common factor. By placing a newborn in a conventional high angle car seat, the heart rate increases and the blood oxygen level lowers, and this is NOT a good combination.
NOW HERE IS THAT EMAIL:
This is a copy of an email sent to car seat experts across Europe on Monday 5th January 2015 (10:22 AM). This email is graphic in content and will cause distress. Please think again before continuing to read on.
Good Morning,
This email is being sent by blind carbon copy to various contacts including many with interests in car seat safety.
It is with the deepest regret that I must advise that my grandson Lochlan Eli Richards has passed away while travelling in his car seat.
Lochlan was just 26 days old, was born within three days of his due date and was of healthy birth weight (7lbs 1 oz). Lochlan appeared to be completely healthy, he had no apparent respiratory issues and in every respect was normal.
As virtually everyone will know I have always believed and campaigned that due to the significant medical research evidence (Bass/Merchant, etc.) conventional infant carriers can cause breathing issues - and that newborns should ideally travel flat for the first few months.
Regrettably in Lochlan's case this did not occur as the parents' primary car is a three-door model making it impracticable to fit a car seat of that type. Instead, Lochlan was secured in a standard group 0+ infant carrier with a lie back angle which I considered safe.
On Wednesday the 31st of December at about 10:00 am my son and his partner placed Lochlan in his car seat and set out for a trip to Southampton which is about 12 miles from their home. Lochlan appeared completely normal. About halfway into their journey, they became aware that Lochlan was making unusual noises and they stopped the car to inspect him. It was immediately apparent Lochlan had breathing difficulties, so they took him out of his car seat and rushed him to their doctors' surgery which was about 3 miles away. They estimate they reached the doctors in 5 to 6 minutes and was seen within seconds of arrival by an emergency doctor who administered CPR. The doctors' surgery called an ambulance which arrived within 8 minutes and the doctor with a paramedic rushed Lochlan to Portsmouth's Queen Alexandra Hospital. All my family reached the hospital within fifteen minutes of the ambulance, and we were taken to the relatives' room.
What happened next no man should witness.
I saw XXXXXXXXXXXXXXXXXXXXXXXXXXXXXXXXXXXXXXXXXXXXXXX(edited for personal reasons). On being given the news that Lochlan had died, I saw my son punch a hole in the wall of the relative's room and become uncontrollable in grief.
Everyone was crying from hospital staff to all the relatives.
Once some semblance of order was maintained, the medical staff invited Lochlan's family to a short religious service. The hospital chaplain arrived, and a blessing was given besides Lochlan's crib. The hospital took imprints of his tiny feet and hands and cut a tiny lock of his hair before giving them to his parents.
From that point, they were a number of interviews by health professionals and finally, the police. We were told it was standard procedure for the police to be involved, and they requested that they wanted to see Lochlan's home, which again we were told was standard procedure. At about 4:00 pm I set off with the police and a social worker to go to the family home, and when we got there, I was surprised to find a police officer "on guard" outside the house. Again I was told it was standard procedure. The inspection took about twenty minutes, and they seemed to be quite happy with what they saw.
The following day (January the 1st) resulted in the first of two visits to the hospitals chapel of rest. Lochlan looked at peace in a Moses basket but I witnessed grief on a scale I have never seen before nor wish to see again. His parents left with him a host of items, including pictures of us all plus all his favourite toys.
My son (while cuddling his dead son) read him a story from a book that Lochlan had received as a Christmas present.
It was heart-wrenching.
On the following day (January 2nd) we were told by the doctor who gave CPR that Lochlan died of a respiratory issue, but there is to be post mortem and that it could be some weeks before there were any final results.
The reason I have gone into some detail about this incident is that if ever any person "beat the drum" for newborns travelling flat (supine) it was me. Some people considered I was mad, some people thought it was a minor issue, and some thought I did it because of financial gain given I work on a consultancy basis for a company who have in their range two lie-flat systems.
The truth is I believe it is best for a newborn to travel flat.
In Lochlan's case it is undeniable that he was positioned in a conventional infant carrier and that if he was in a lie-flat car seat, his death may have been prevented - or that his breathing difficulties may not have even occurred at all.
There are many of you reading this who will be shocked by this email, but evidence of this type is exceptionally rare, and it is right you are made aware. Whilst crash tests are imperative, and some user tests may be useful when it comes to newborns, the angle of the car seat should be a primary test factor.
Worst still, there is a faction within the industry (mainly based in Germany and Switzerland) who have gone out of their way to victimise and discriminate against lie-flat car seats and to those I say they have blood on their hands. These "experts" really have to understand that conventional infant carriers are potentially dangerous to a minority of newborns not only in regard to angle but by the fact that many group 0+ infant carriers are belted by parents into cars forward facing! These experts "look for trouble" in regard to lie flat systems but ignore the risks that conventional infant carriers have.
In the UK every year about 240 babies die suddenly of unknown causes (SIDS), and in a research exercise (admittedly completed many years ago) I estimated that 20 to 30 newborns die or experienced life-threatening events whilst secured in their car seat.
How many 0 - 6 month old's die in UK road traffic accident?........... probably 1 or 2.
Just when is this industry going to realise the priorities for newborns in car seats is wrong?
Regards
XXXX XXXXX
In-Car Safety Consultant (Kidex Ltd).
Note: The family would like to make it clear that we are very grateful to all the doctors and emergency staff who tried to save Lochlan's life and we are in no way criticising them for all the efforts they made. We would like to thank The Lullaby Trust (formerly the Foundation For The Study Of Infant Deaths) both for the family support and other information supplied.