Welcome To The Home Page Of Which Car Seat.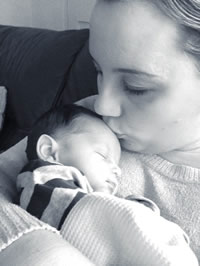 So which car seat is right for your newborn?
So which car seat is right for your newborn? You may be surprised to learn that the best one may well be the one that fits safely in your car, has good crash tests results and is either a lay flat car seat or one that is nearly flat.
For well over the last 24 years, there have been concerns about conventional infant carriers and upright car seats and how they can sometimes cause breathing issues for newborns.
Very sadly, that possibility became a reality for my grandson Lochlan who passed away in his car seat on December 31st 2014 aged just 26 days.
You may well ask if I knew about this issue how did it happen to a family member? Well, as mentioned in the second sentence, I stated "fits safely in your car", and in Lochlan's parents case we could not get a secure fit with a lie-flat car seat. This is very unusual but was not helped by the fact that it was a car with three doors. The bottom line is three-door cars and babies are not a good combination.
Put simply - not all child car seats fit all cars, and even if you find one that does fit well, incorrect usage could make even "the best" car seat virtually useless. While this website is pretty much all about car seats for newborns and very young babies, this statement is true of all car seats whatever the age of the child.
So firstly let's establish who is publishing this website, "Which Car Seat". It is brought to you by Kidex Ltd and we specialise in travel systems & car seats. However, many other professionals have contributed to the content of this website. We are very grateful to them for this.
I hate saying I or we are experts suffice to say Kidex have probably more IOSH accredited child car seat fitters than any other private company in the UK. I was the lead speaker at the International Consumer and Research Testing (ICRT) International Car Seat Conference in 2009. Members of ICRT include the UK's main consumer organisation (Which?) and from Germany Europes top testing agency Stiftung Warentest. You will find more details of who we are on the About Us page of this website.
Ultimately this website has four goals.
To suggest to parents that a good lie flat or shallow angled car seat is the safest and healthiest option for a newborn.

To encourage health professionals that a "Pulse-Ox" test for a newborn (preferably while sat in their car seat) should be considered a priority.

To encourage car seat manufacturers to produce "newborn" foam or polystyrene tailored inserts in relation to existing high angle group 0+ car seats.

To explain the child car seat "golden rules" in relation to newborns, encourage the safe fitting of car seats, and give brief explanations of car seat crash testing.
Our simple aim is to help to reduce Sudden Infant Death Syndrome (SIDS) and at the same time, give parents good car seat advice. In regards to SIDs there are still around 250 deaths each year. The road traffic figures are much better, and in 2012 no child under the age of one died in a road traffic accident in the UK, but some were still seriously injured. Following on from 2012 it is still very rare for a baby under one to pass away in a road traffic accident.
We back up what we say in the Strong Medical Evidence page of this website.
We also give details of all the car seats we know that are either flat or have a very shallow incline of less than 30 degrees to the horizontal. All the child car seats we mention have superb crash tests results. By reading the Medical Evidence page you will come to understand why this is the criteria we recommend.
We would also like to see all car seat manufacturers develop tailored insert (liners) for their range of sharp angle car seats so to enable newborns to fit in the seat much better. As it stands, many newborns are far too small to fit in their car seat comfortably, and it is often the case the harness straps do not fit correctly; consequently compromising safety!
These inserts would not only potentially lower g force in event of an accident but could also be designed to reduce the angle of the infant carrier or car seat. Once baby reached four months, or so the insert could then be removed, and the infant carrier used just as normal.
Please also note that details of lay flat car seats with poor crash-test results are not shown on this website, and there are certainly a large number of "conventional" car seats that do have good crash test results as well (but we will not recommend them due to angle).
If you are currently using a car seat under no circumstances, stop using it (irrespective of design), any car seat is better than none.
One final point. The "Lochies Legacy" page contains some harrowing content, and we thought long and hard about its publication. We decided to publish for various reasons, but mainly because SIDS does not get a high enough attention in regard to car seats for newborns, parents need to have more awareness and information. There is lots of info regarding models that fail crash tests and parents (and retailers) who fail to fit car seats correctly, but in regard to sudden infant deaths in car seats and medical issues, the info is much harder to find.
It is because of these facts we decided to publish "Which Car Seat".
It most certainly is NOT our wish to distress parents, and we accept that the Lochies Legacy page will. So please consider very carefully. Ultimately you do not need to read this page to understand the message of the website.
This website is for you, Lochie.
Lochlan Eli Richards: December 5th to 31st 2014